Selected Topic
Issue 4 - Cinema – Architecture and Cinema: Real and Fictional Spaces (August 2011)
Show articles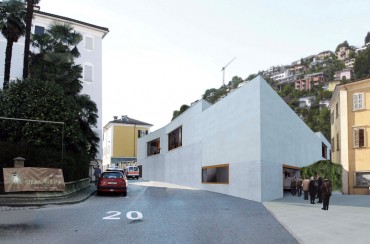 Project by Lukas Germann: exterior view.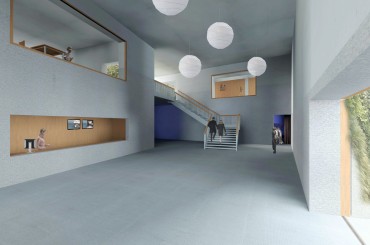 Project by Lukas Germann: interior view.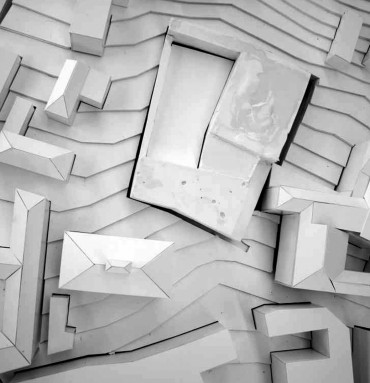 Project by Lukas Germann: model.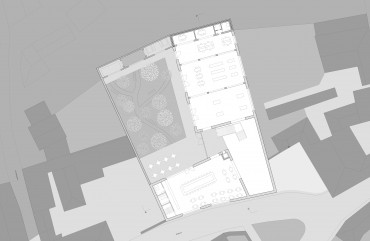 Project by Lukas Germann: first floor plan.
ENCLOSED GARDEN
Student: Lukas Germann
The project for a 'Cineteca Svizzera' is located on a slope in the upper part of the old town of Locarno. To the north is a district of villas, while towards east, south and west are historic buildings.

The concept of the project by Lukas Germann derives from the given situation: an untended wild garden surrounded by stonewalls. The Cineteca seems to grow from the existing constructions, enclosing as a core a secret garden.

Entering into a double height foyer at street level, the visitor is attracted by the daylight coming from the patio. Exhibition spaces, a bar and offices frame and define the new garden. Two large cinema halls are situated underground, taking advantage of the ascending terrain.

The typology of a monastery with the enclosing walls and the attached building volumes on the inside, each with another depth, integrates well in the historically grown context.
In harmony with the massive existing stonewalls, the walls of the Cineteca are built out of one layer of insulating concrete. The transition between wall and building is blurred. We can consider the figure as a structure with room containing walls, where the project lives from the tension between void and massiveness.
Download article as PDF